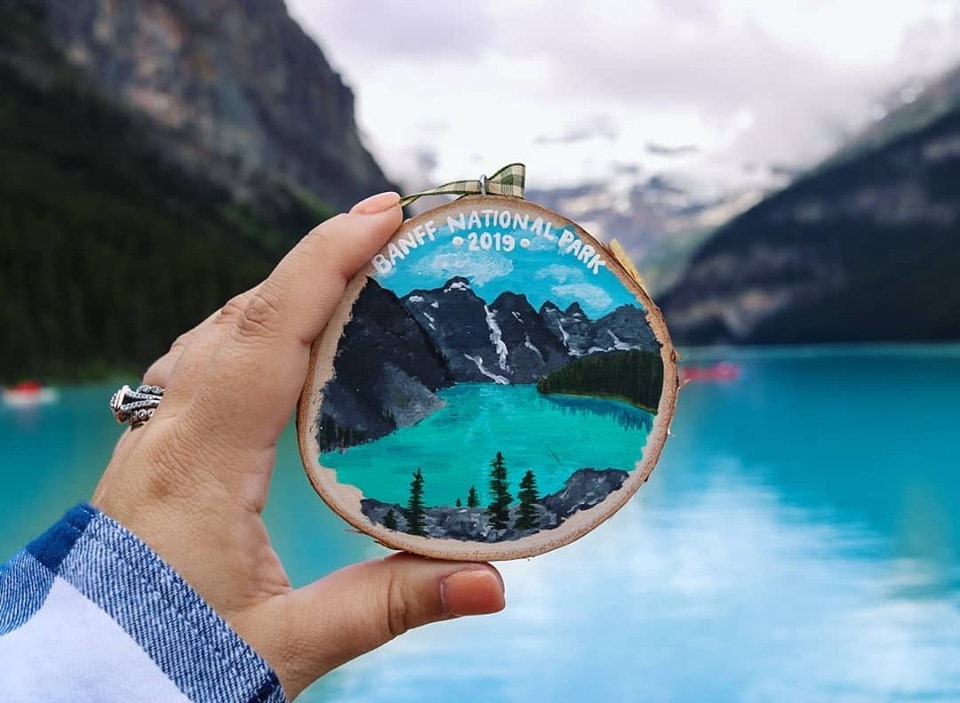 We had the opportunity this July to travel to the most gorgeous place we have ever seen this side of heaven, Alberta, Canada. Some of the places don't even need words because they take your breath away! We spent a week there and still barely skimmed the surface. If you enjoy hiking and pretty views, this is your paradise. If you  don't enjoy hiking, there are still plenty of sights for you to see as well. Throughout the week we discovered timing is everything because trust me the secret of Banff's beauty is being told and you will not be alone tourist wise.  July and August are the most popular months due to the more mild climate (it still ended up snowing in July so don't forget layers upon layers just in case). Thanks to our early starts and having our plans the night before we got to enjoy a lot of places with less of a crowd.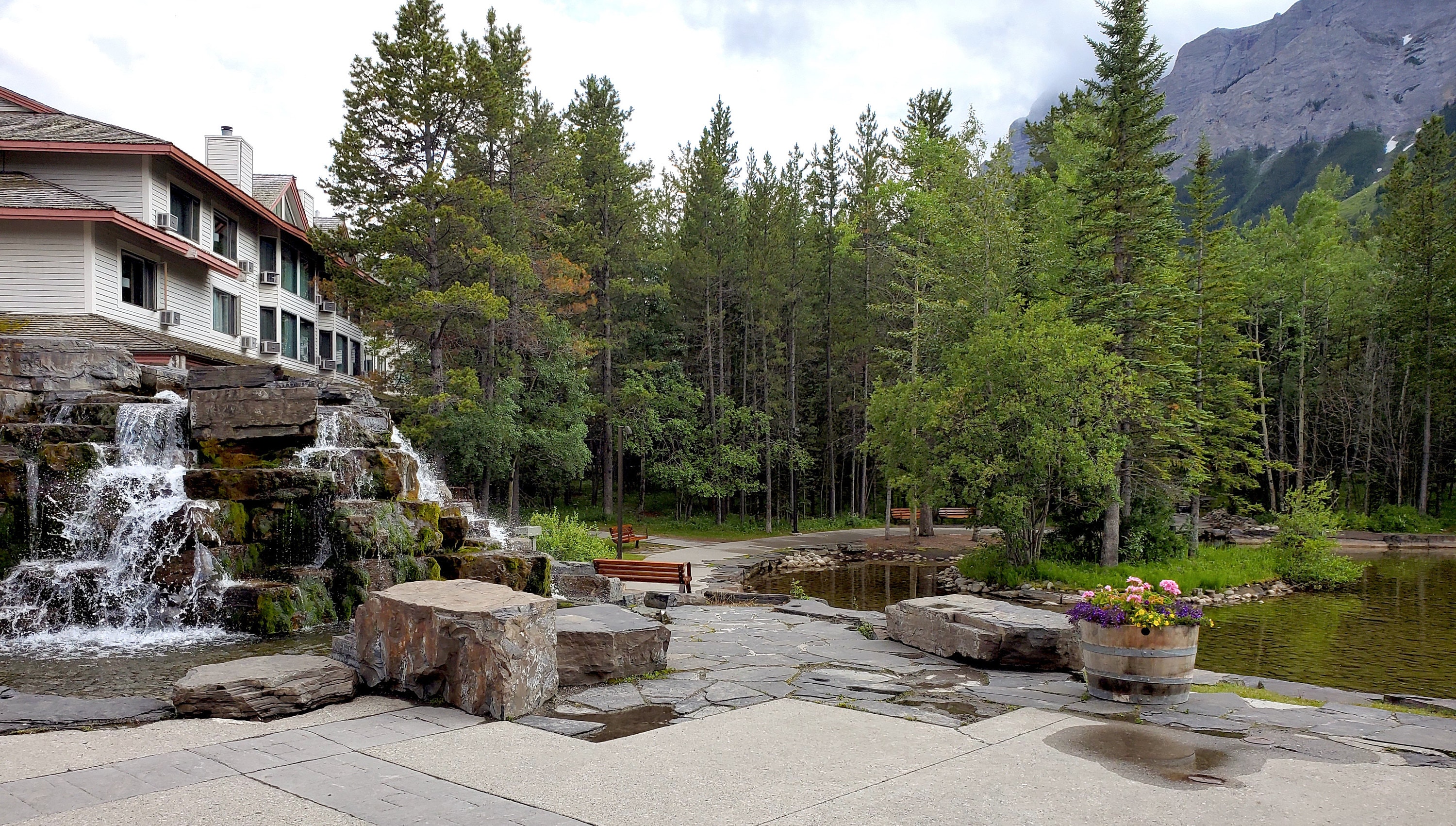 We enjoyed listening to the waterfall sounds in our room all night.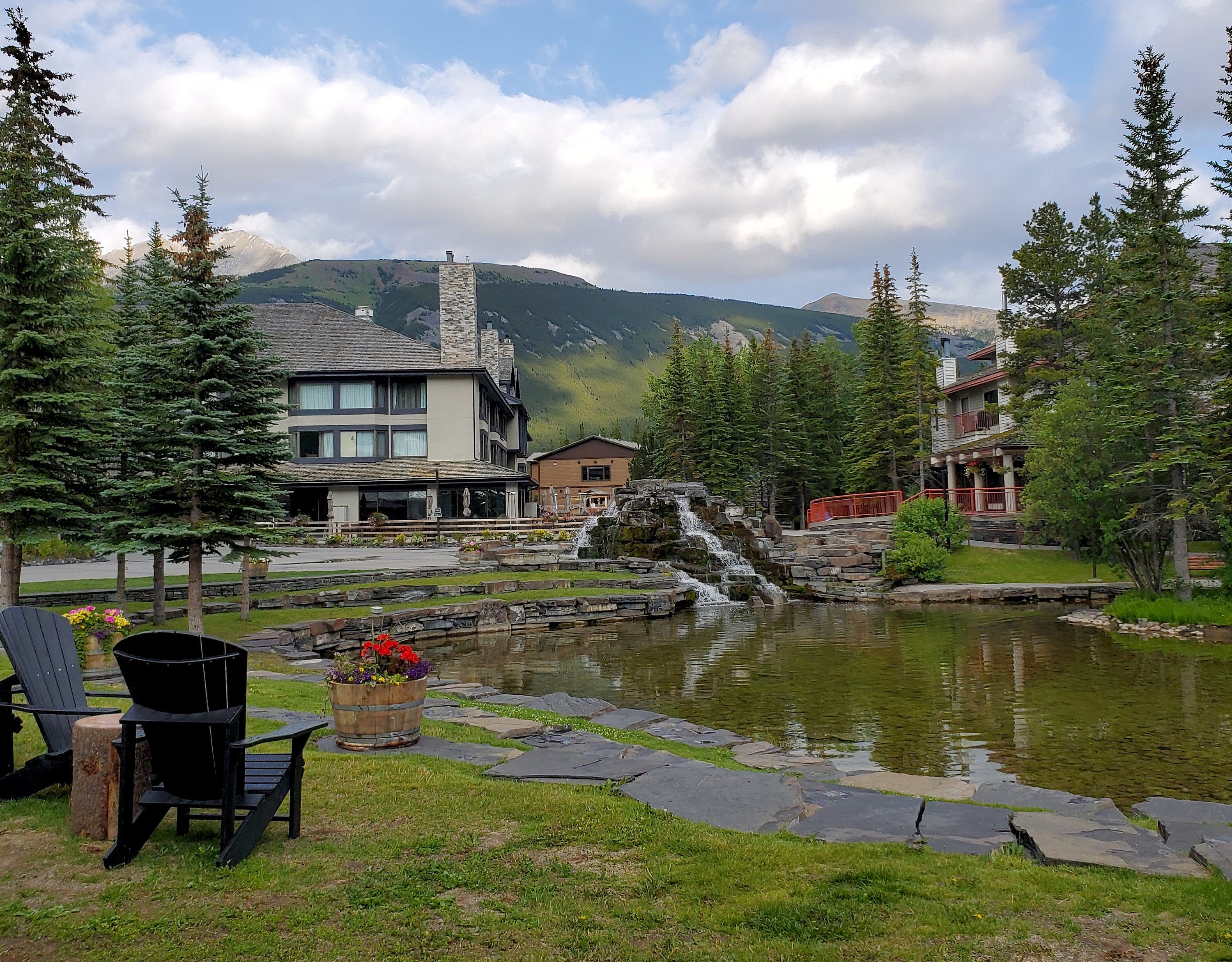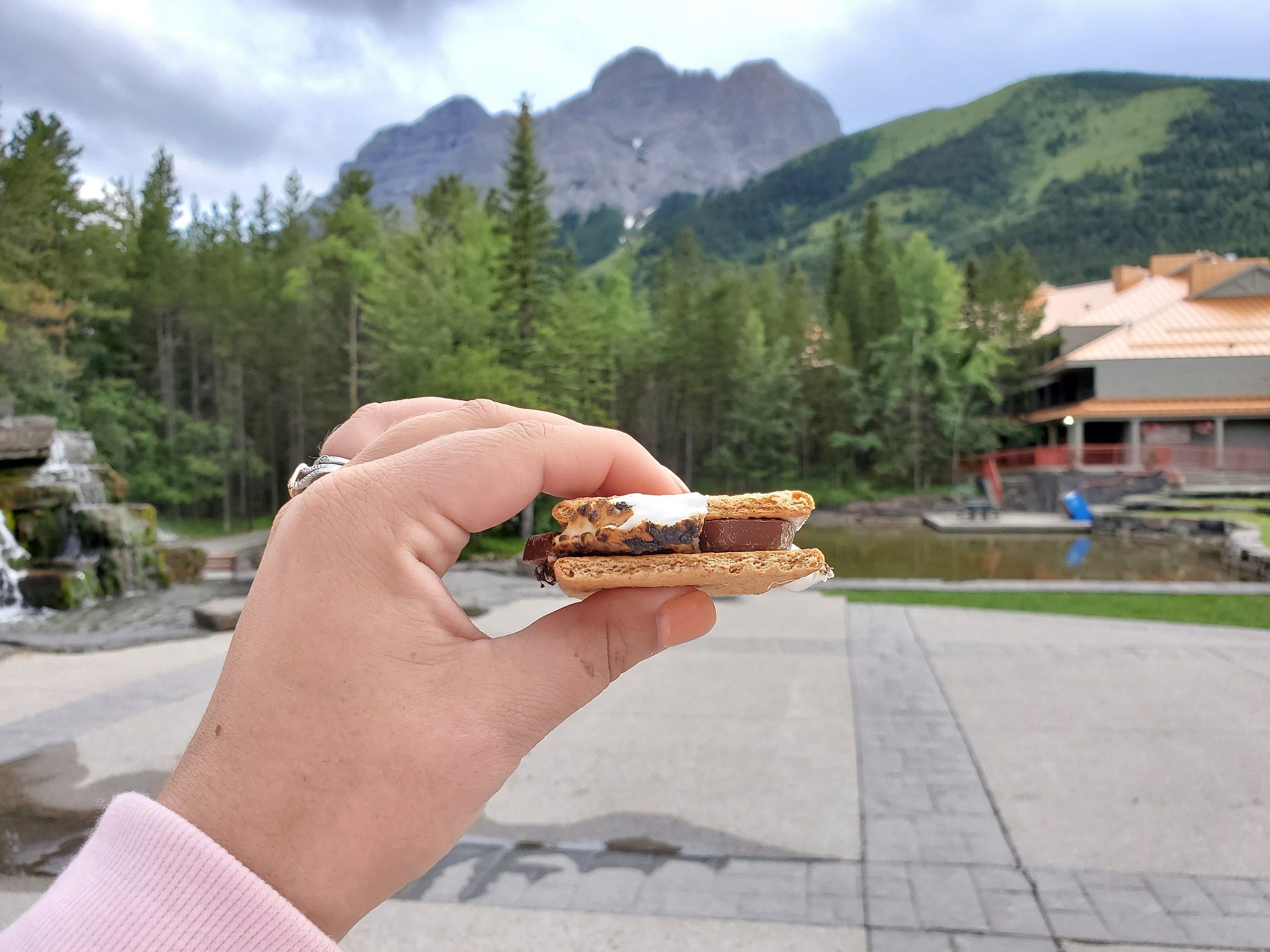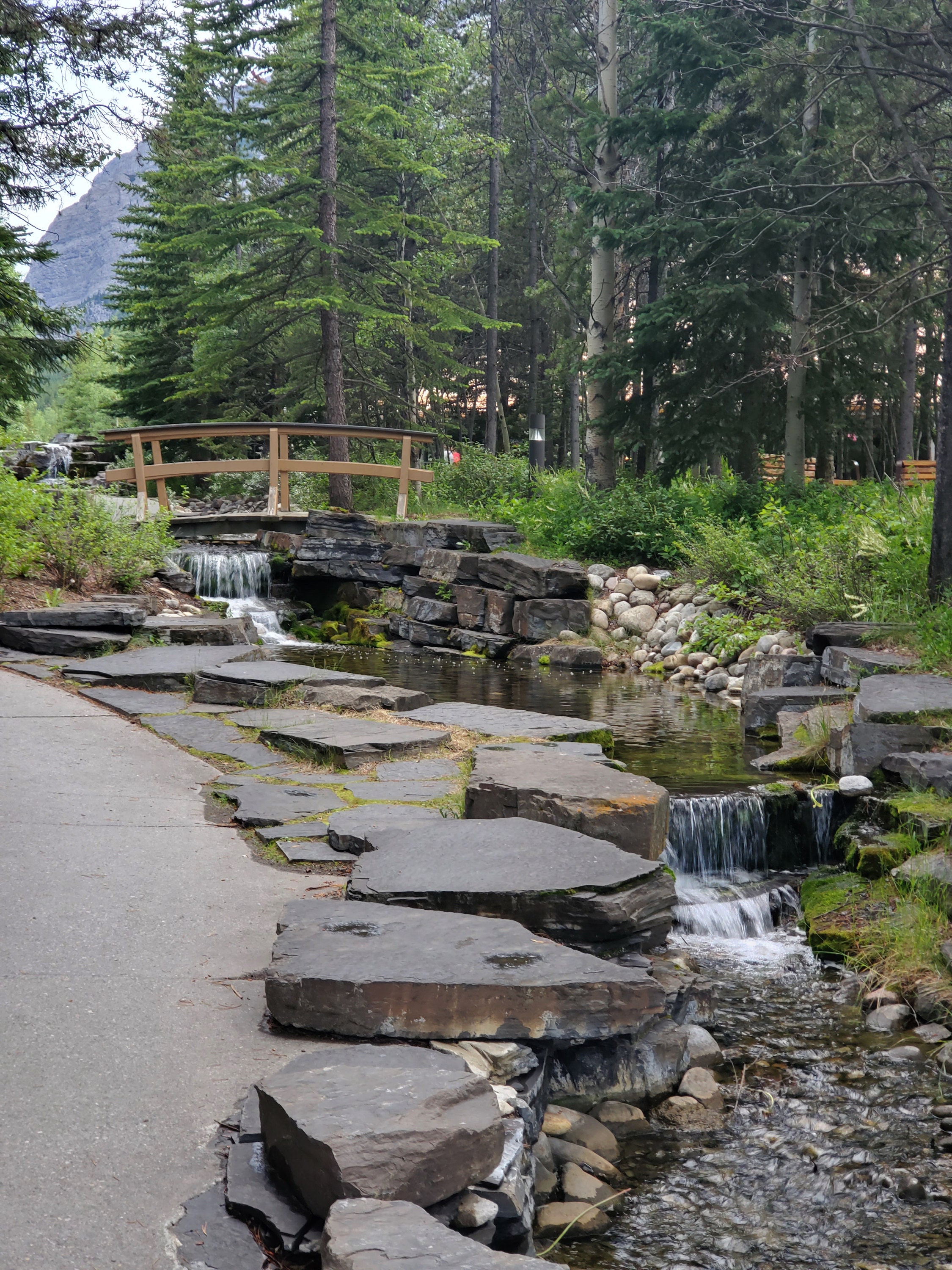 Our room was across the creek to the right.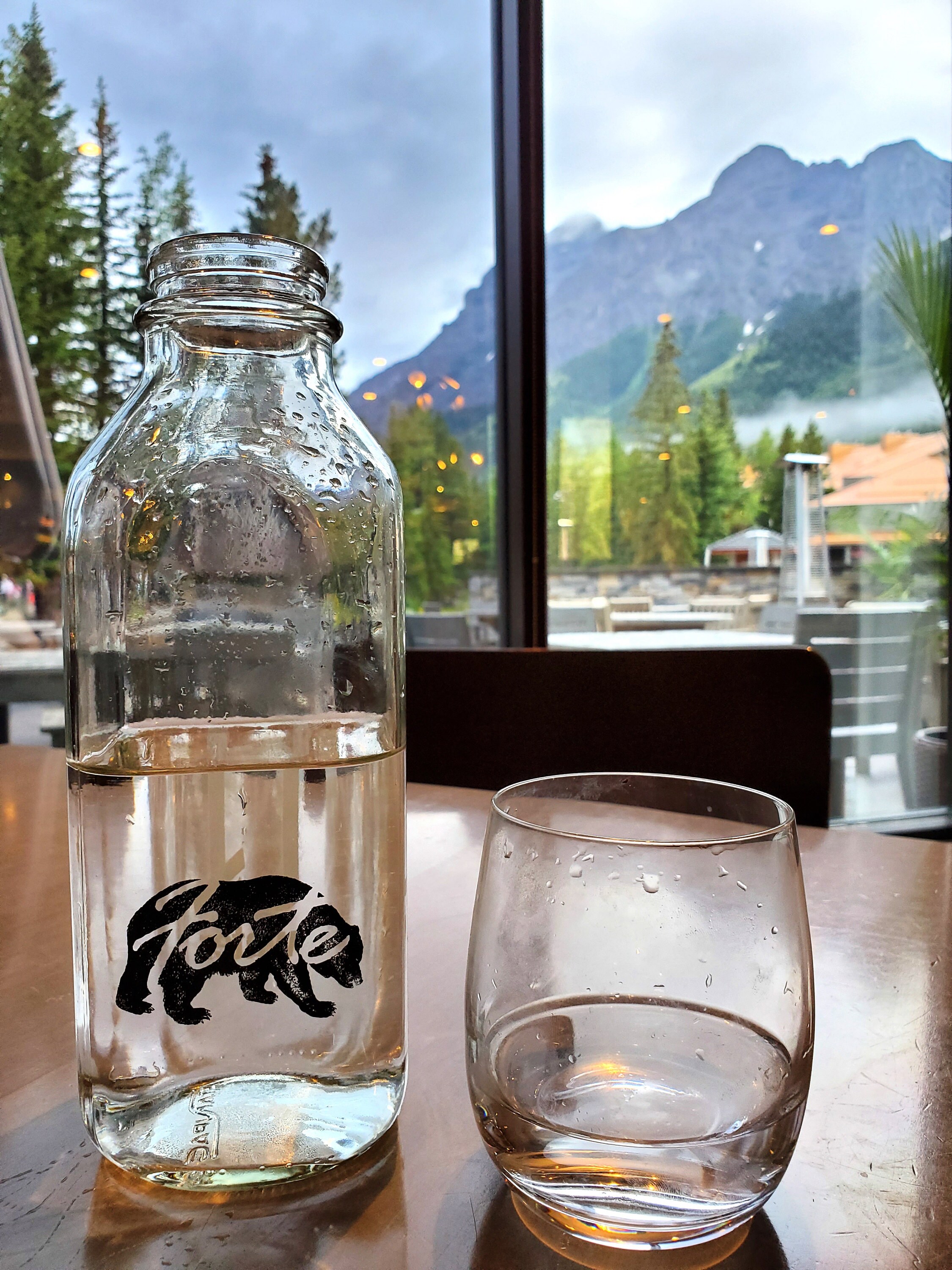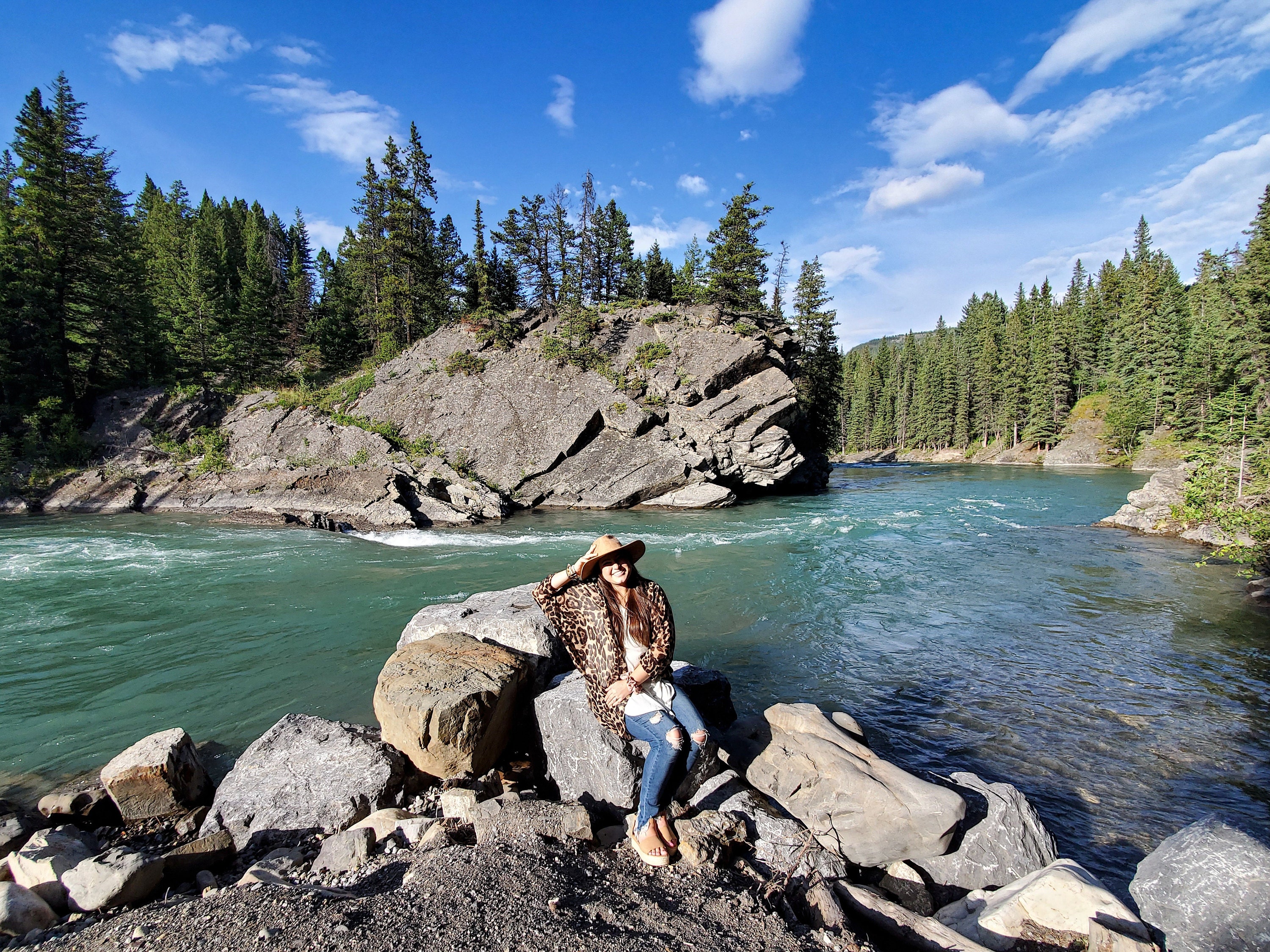 Pull off in Kananaskis Country
  We flew into Calgary (YYC) and rented a car to drive. If you can, get something with good gas milage because no matter where you stay, you'll be driving A LOT! We stayed in Kananaskis Country at the Mount Kidd Manor which is a little over an hour from Calgary. Its a bit out there off the main road but we both agreed we would totally stay there again. It was its own little resort area and was far less crowded than Canmore and Banff. We ate at two of the restraunts there and were stuffed each time. Almost every night they had smores as well and we loved smelling the campfire from our room! The best part about the resort though was the huge new hot tub after long hikes (they even have a few waterslides for kids..or the kid in you)! There were trails and waterfall hikes (ex: troll falls) all around the resort too so you could easily spend a few days not even driving a mile! Be careful though because there is still wildlife around, even close to a resort. One night we came home and there was a sign saying "bear in area." We did drive to Canmore a few nights for dinner and groceries which was 40 minutes away but most nights it was on our way home anyways. (Budget tip: The Safeway grocery store in Canmore has delicious dinners and fresh foods that can save you half of what you would spend eating out). We also stocked up on gallon jugs of water to drink leaving them in our car and they stayed chilled!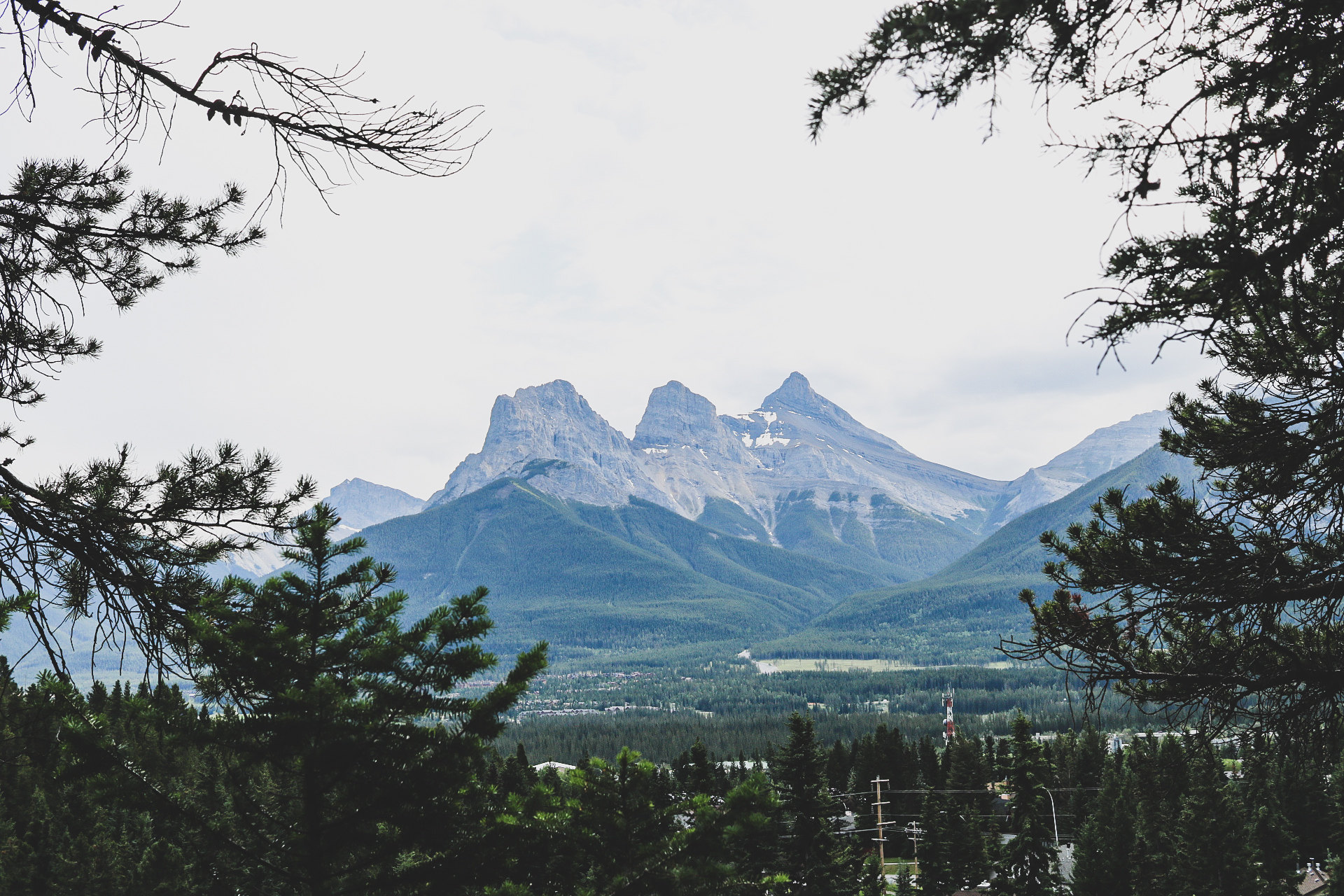 The three sisters- Faith, Charity, and Hope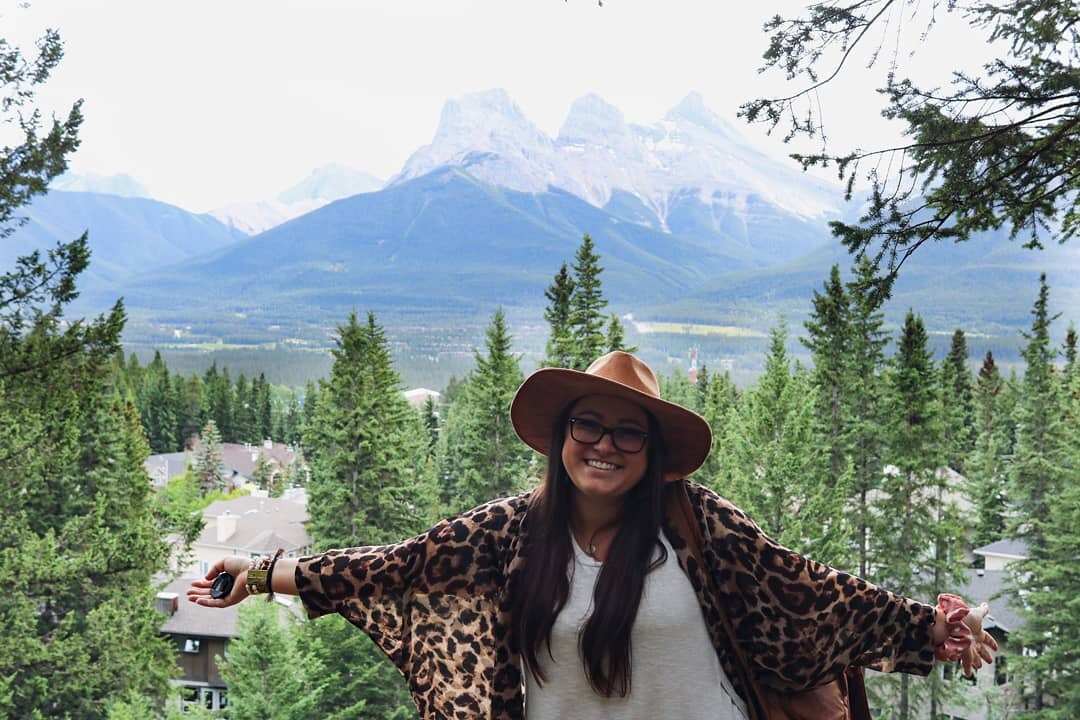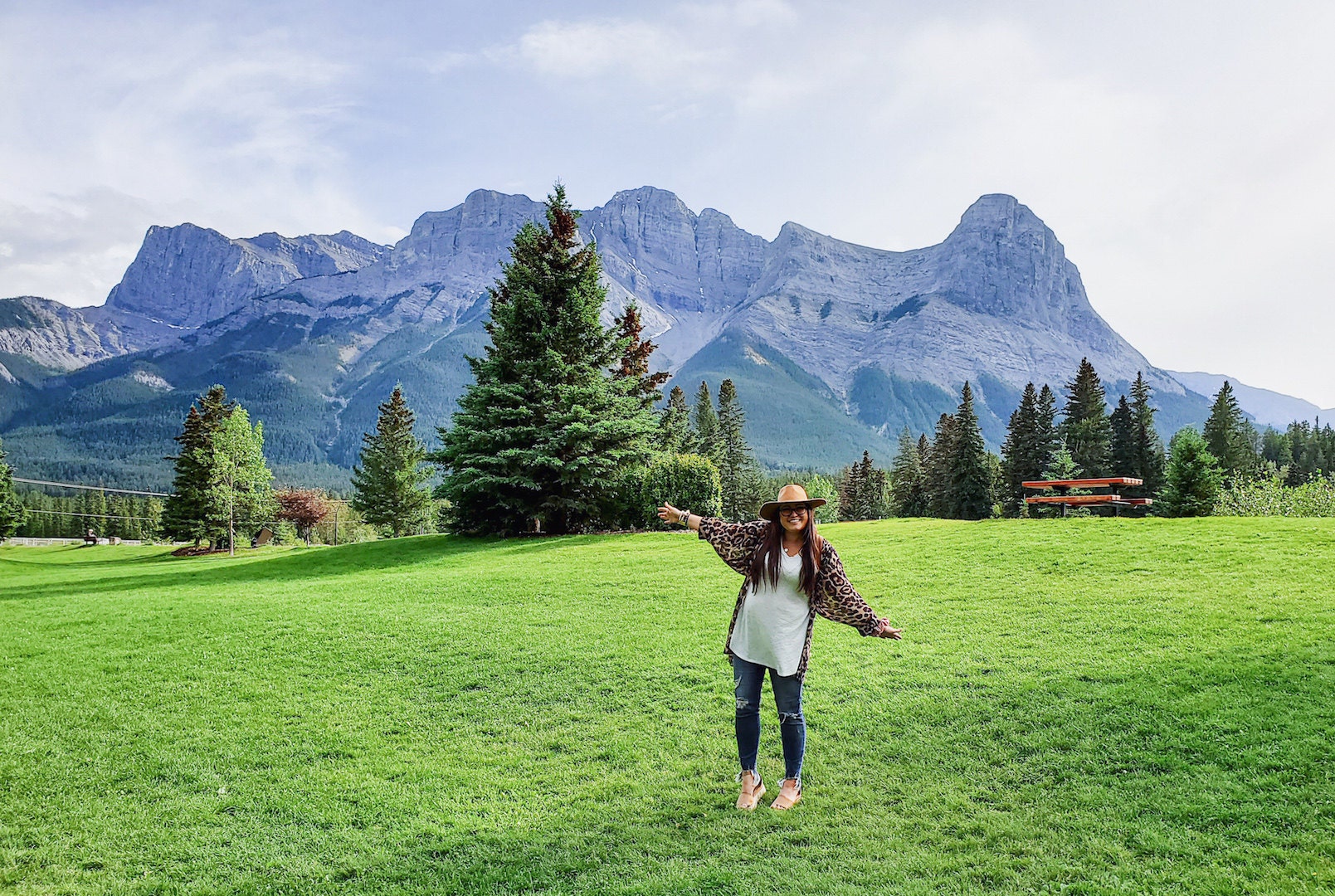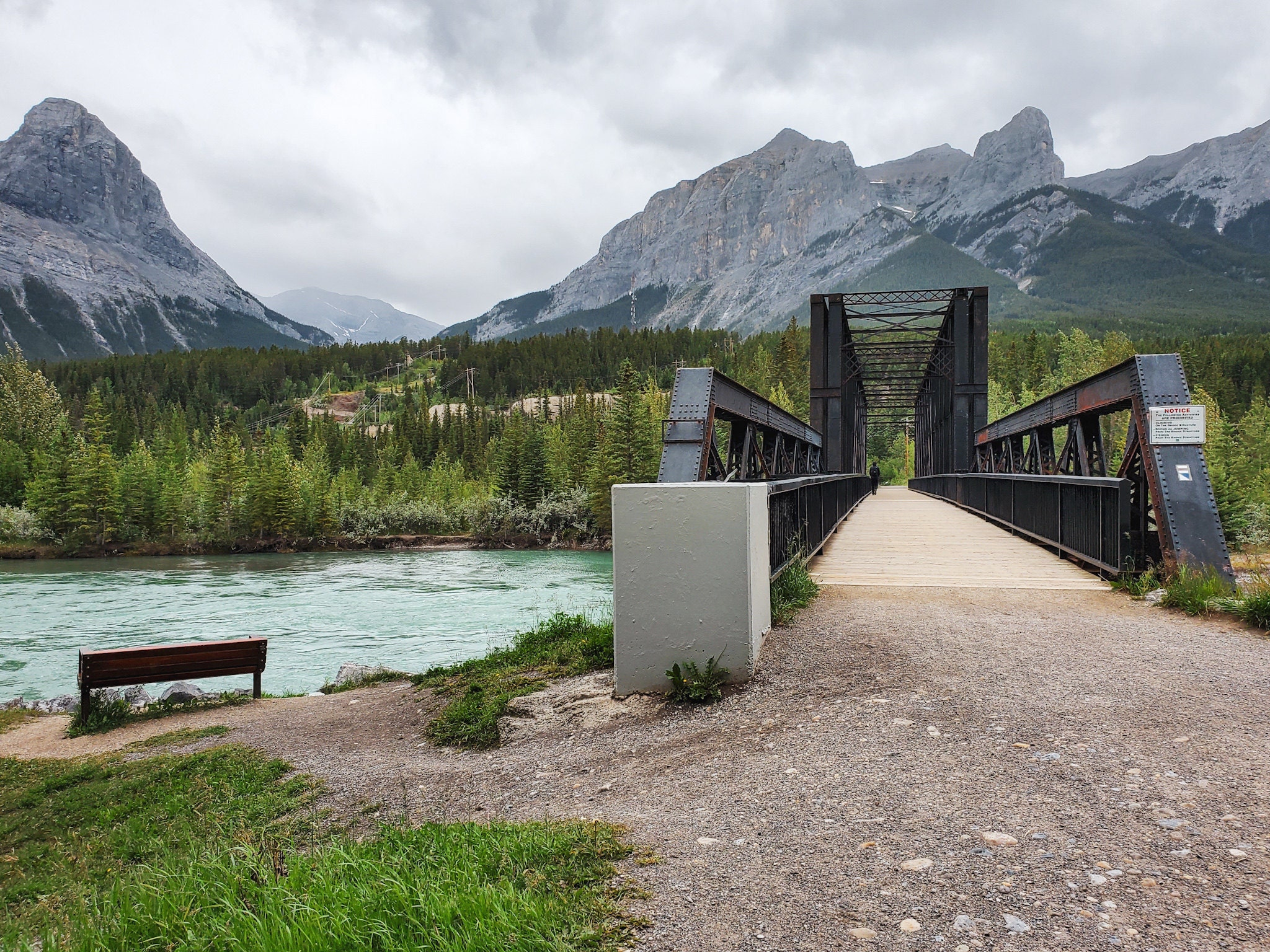 Canmore Walking Bridge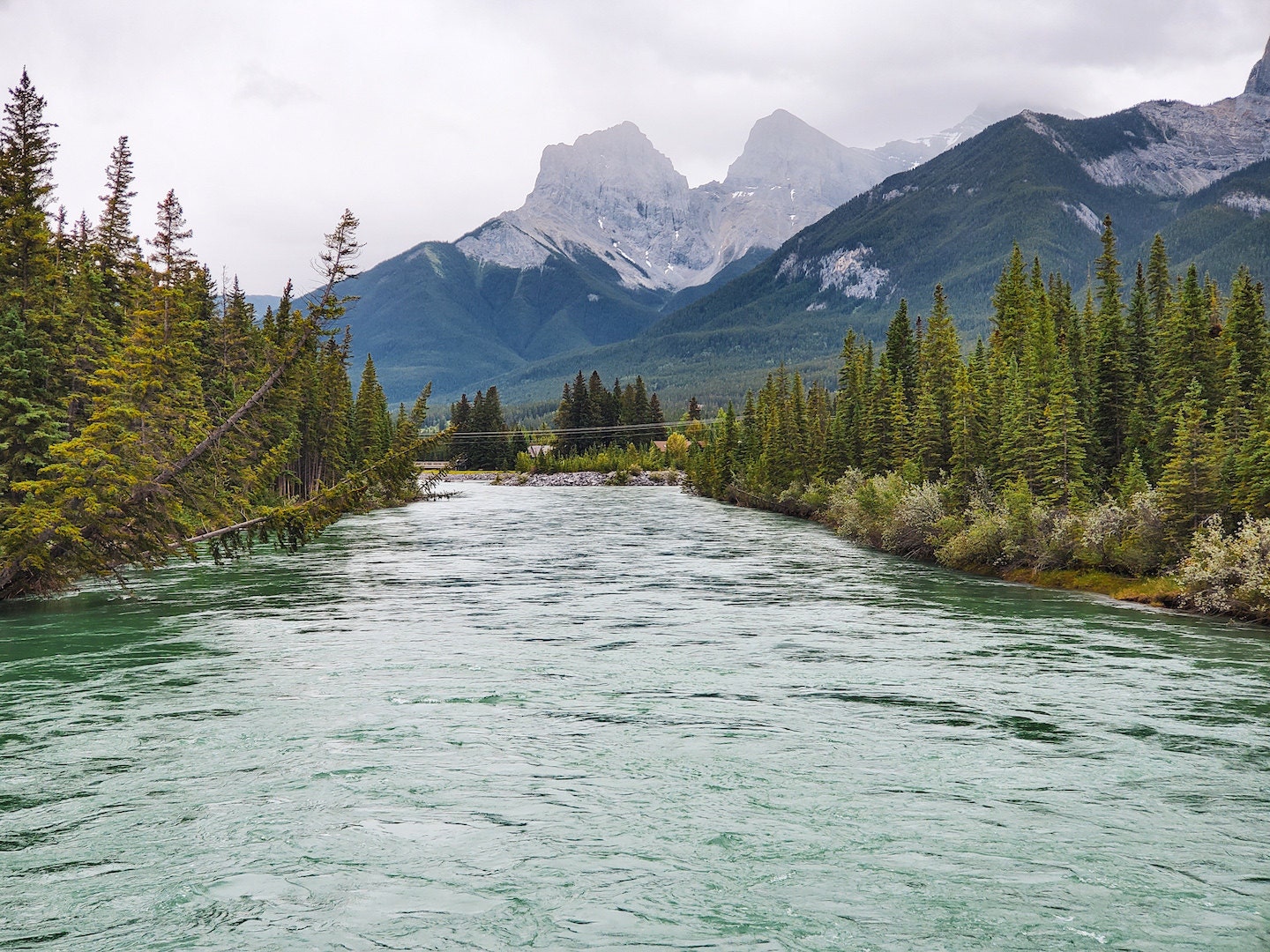 As soon as you buy your plane ticket, download the All Trails app. We went by this app for almost all of the trails we hiked. It shows distance, a map of the elevation, reviews as well as pictures other hikers have posted and so much more. It's like trip advisor for hiking. *My advice for bear spray-take it or leave it* We went back and forth on whether we needed this. There are plenty of places to get it and even rent it. We opted out just because in order to use it, you have to be much closer to the bear than you probably would have planned. Most of the hikes we went on were heavily trafficked and there are a few trails in the park where larger groups are required for this reason. If you'll feel safer, get it. We just made a lot of noise talking and clapping every few minutes (so the bears were probably too busy laughing at the annoying idiots in the woods) and also a jingle bell on your bag would help! 
Day 1 We arrived to Calgary in the afternoon and went straight to Canmore for dinner and to explore. In the months leading up to our trip I was so excited to find 'the Canmore rope swing' but a month before our trip, it was cut down :( I still recomend going to the spot where it was though to get the perfect view of the Three Sisters mountains. It's got a nice little trail and while I did it in platform sandals, I do not recommend that. Haha. To find it I typed in 'Ridge Road, Canmore' on google maps and it took us right to it (the trail starts to the right of the playground). It is a rural road so just be respectful. After that we went downtown and walked a little along the Bow River. There's a ton of walking paths around this area to stroll and enjoy the little town in the valley. Canmore is much more laid back than the town of Banff. The closer you get to all the pretty lakes, the more crowded it seems to get so keep that in mind for where you want to set up camp!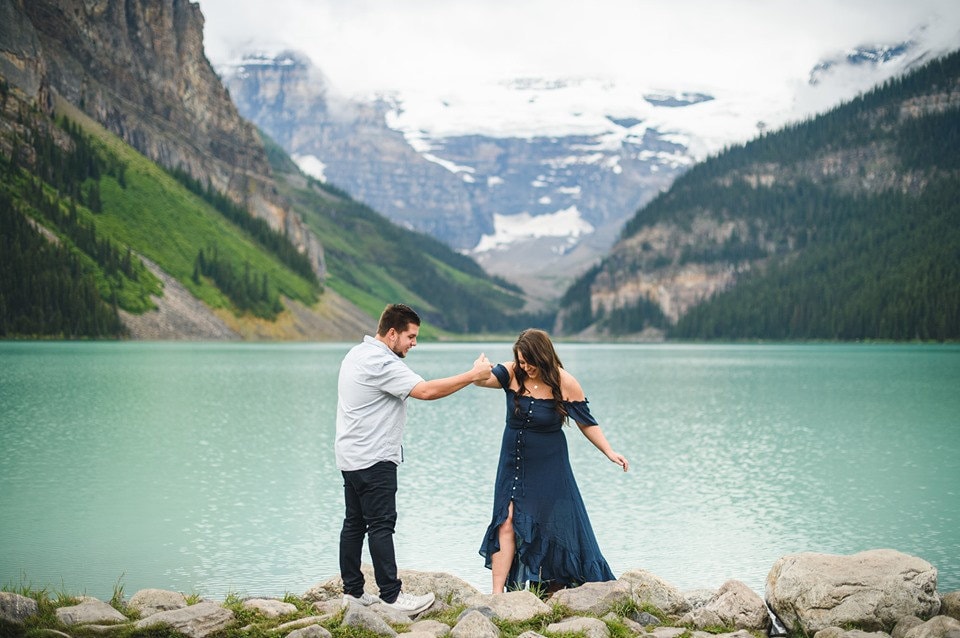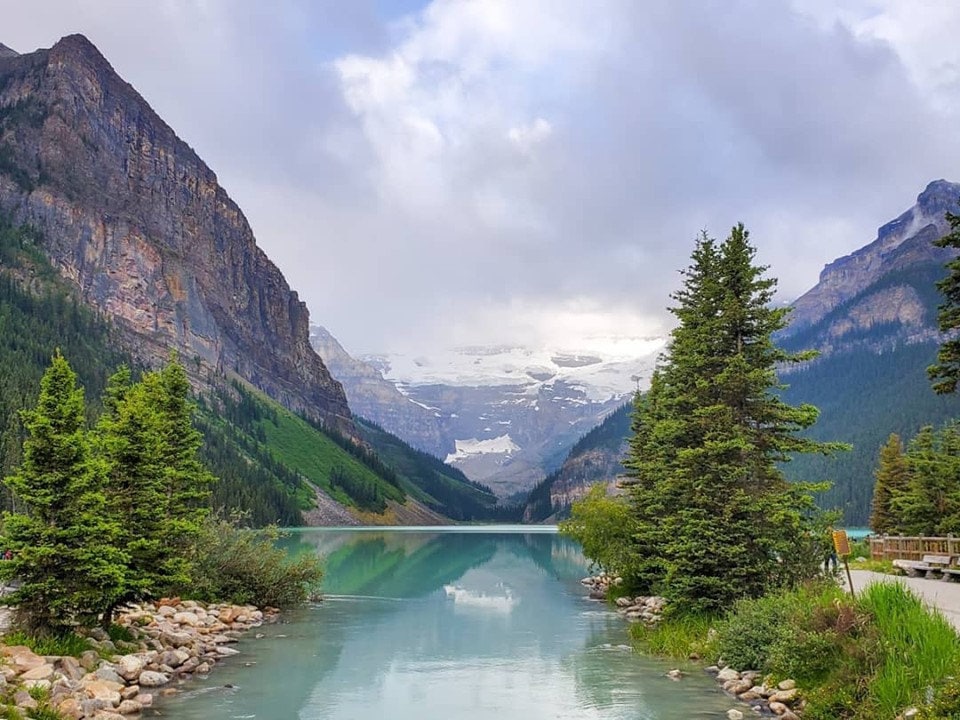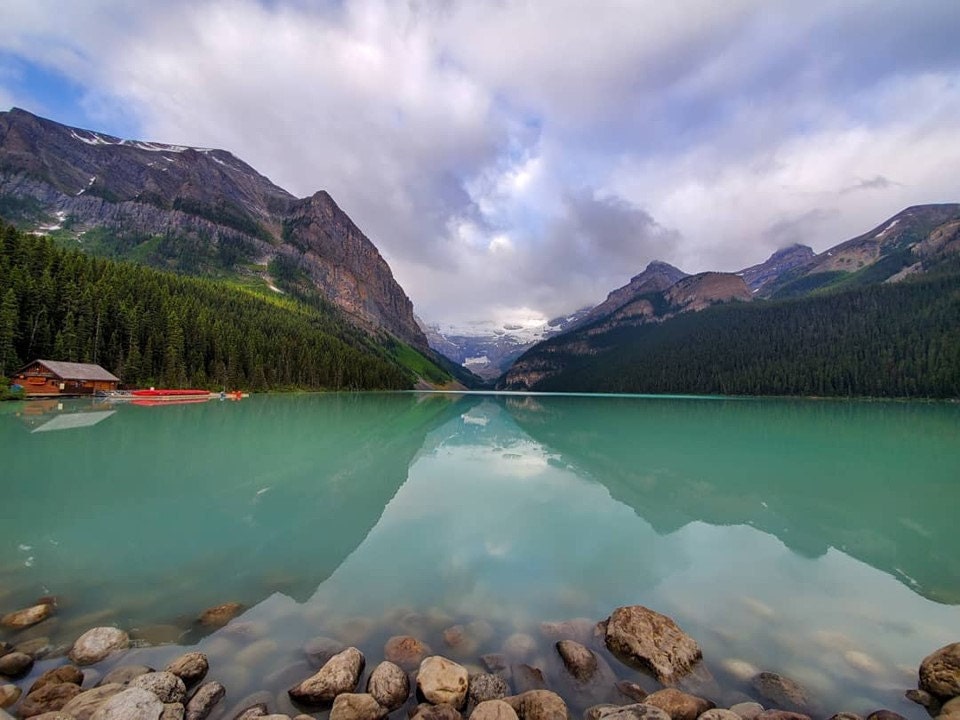 *travel tip: get there before 9am to get a shot without the canoes in there to see the water smooth and hold off on renting a canoe until Emerald Lake. Rentals at Louise are $120CD for 30 min and Emerald Lake is $70CD for an hour.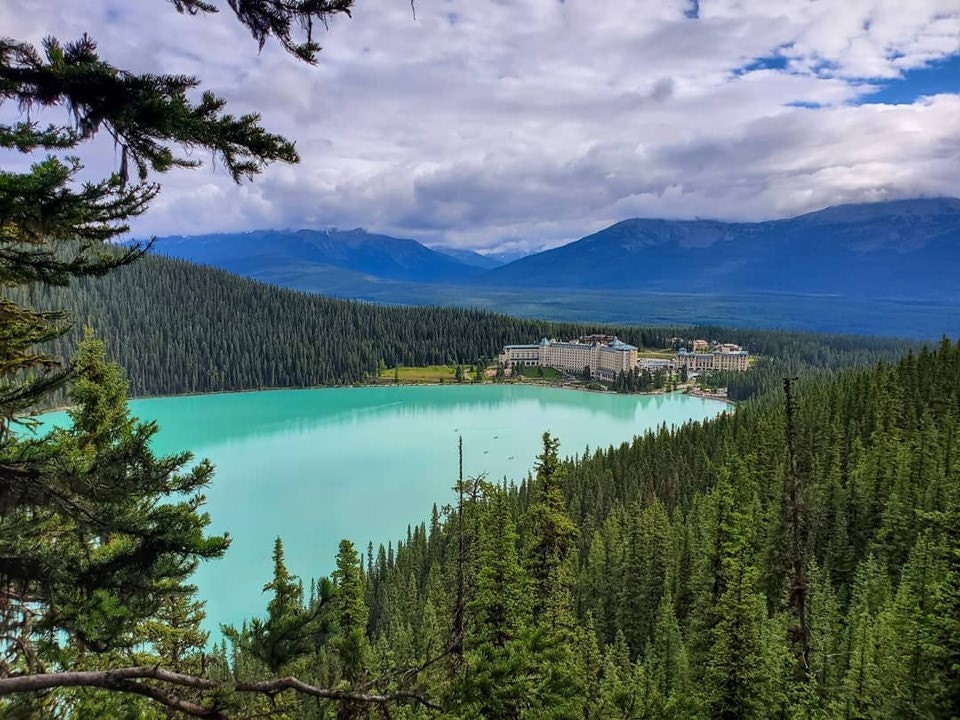 View from the Fairview lookout trail.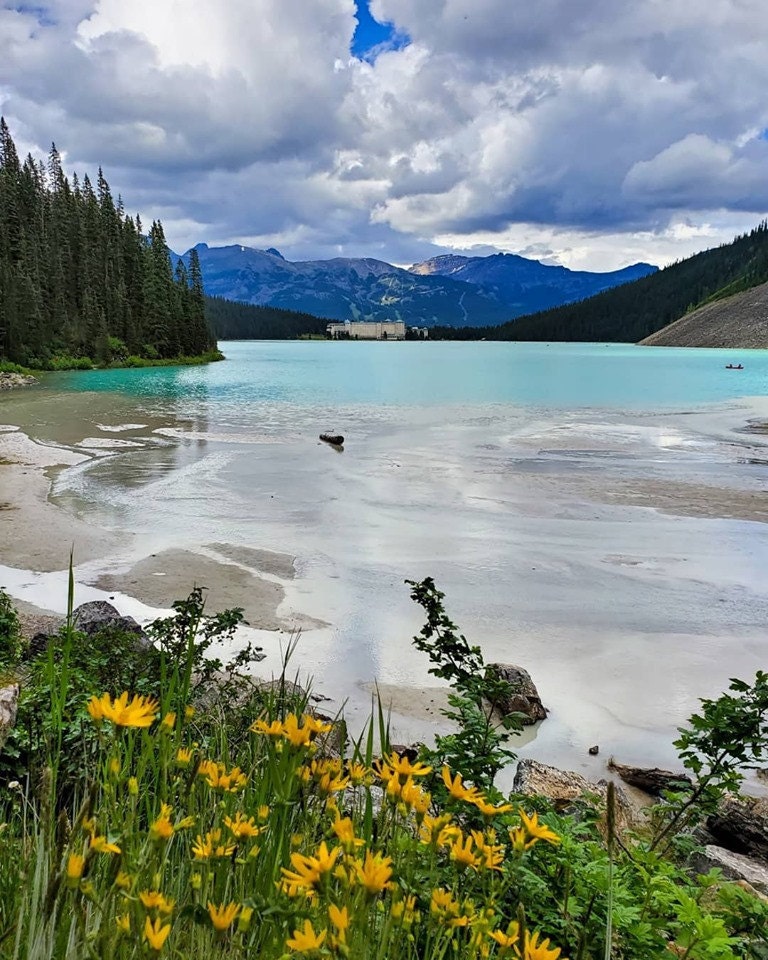 The Plain of Six Glaciers Trail goes around the edge of the lake and you can see where the lake is being fed by the glacier. For all my bachelor fans, this is where they did the polar bear plunge on Sean Lowe's season. ;)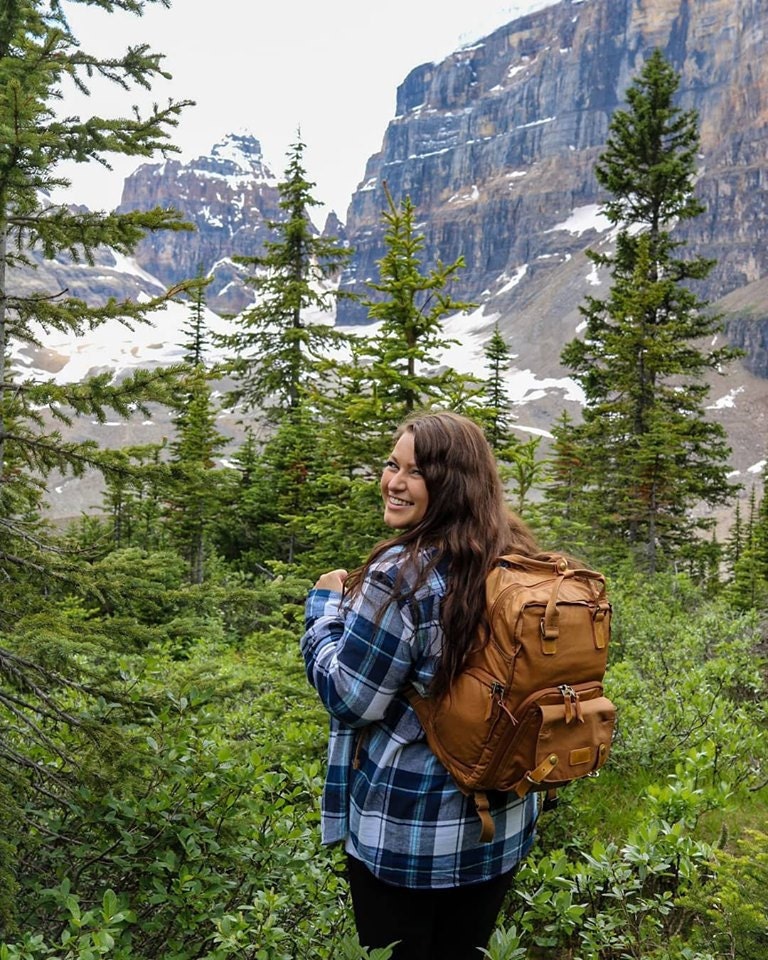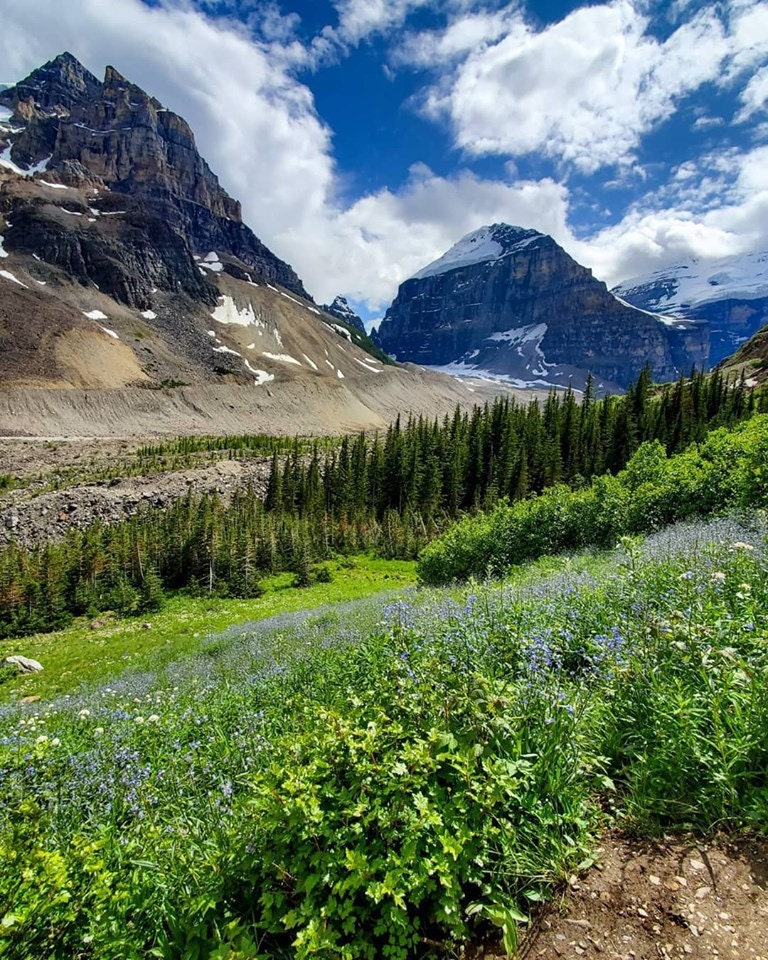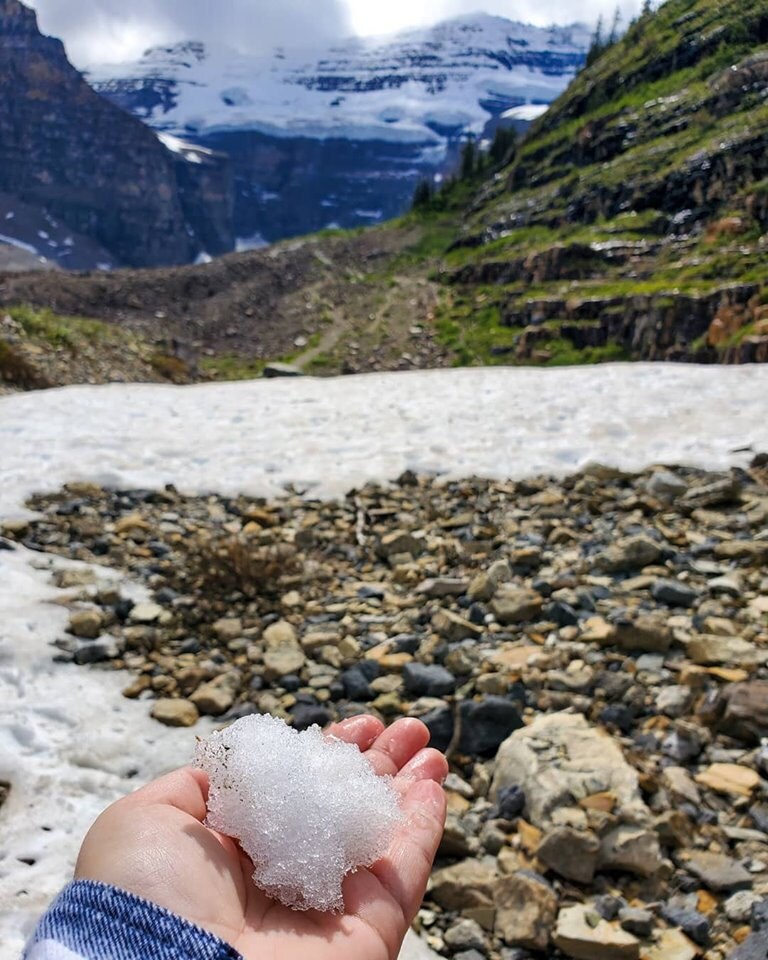 *Travel tip: Don't forget a packable rain jacket because some of the hike was in a cloud so it got a bit misty. Also pace yourself because it is a big change in elevation if you aren't used to it.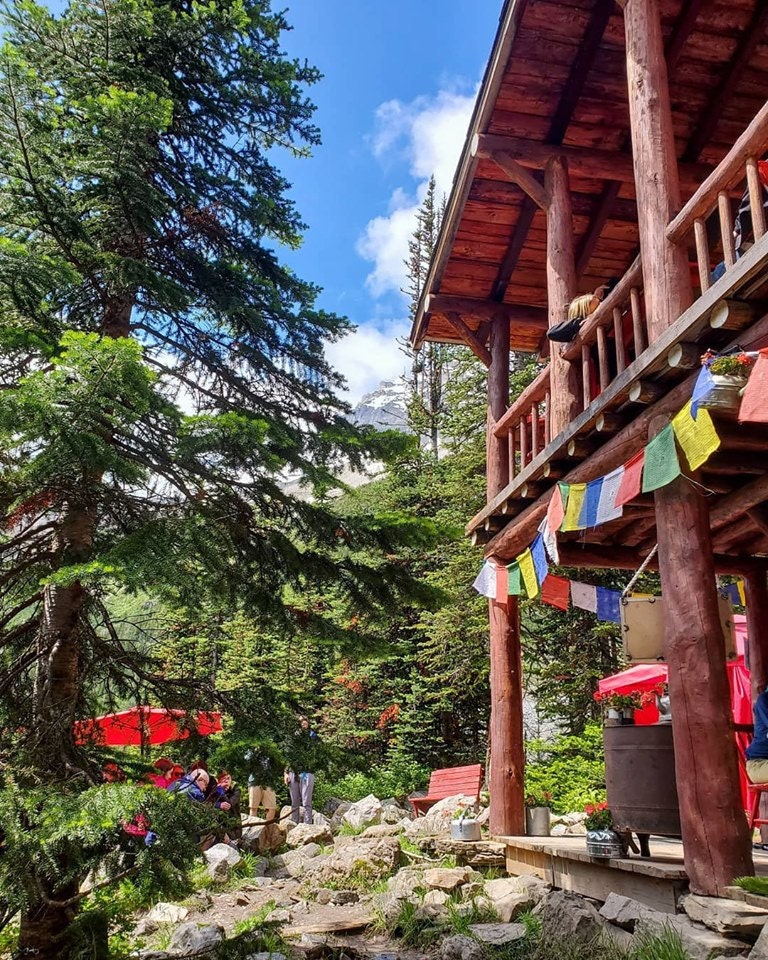 Family owned Tea House. Perfect reward after hiking all that way! It is seat yourself. Most people are exhausted by the time they get there so you may have to wait a bit to sit depending on the crowd but totally worth it!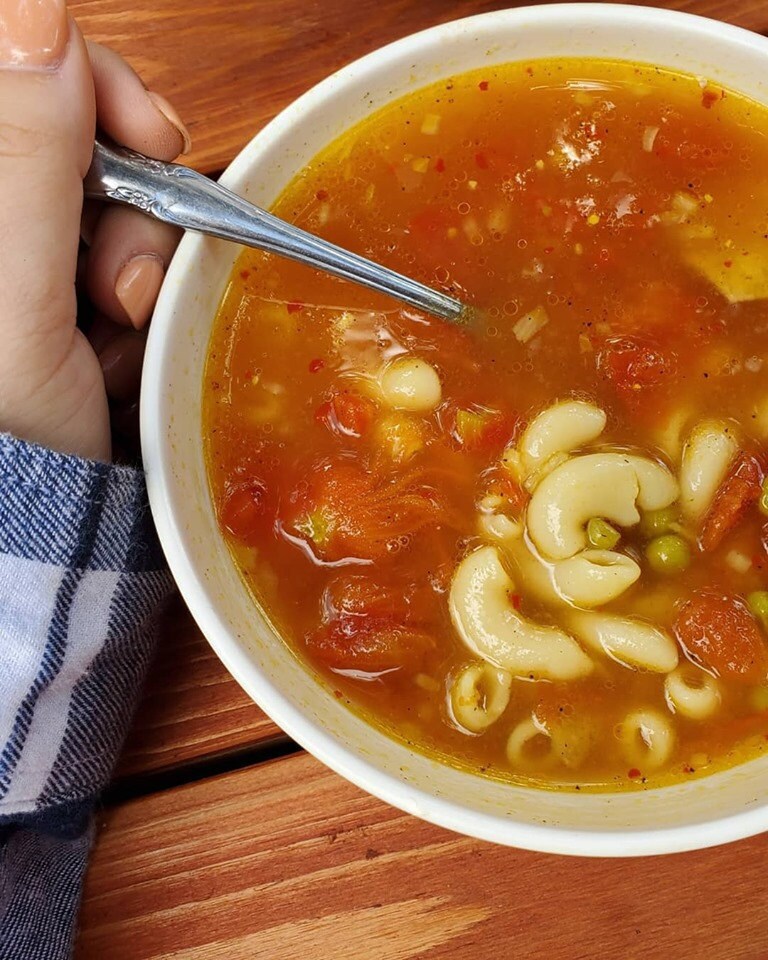 I got veggie soup which was perfect after the long hike and the chill towards the top! The wind coming off the glacier is no joke even in the summer! They also have coffee, hot chocolate and desert because you need to treat yo'self!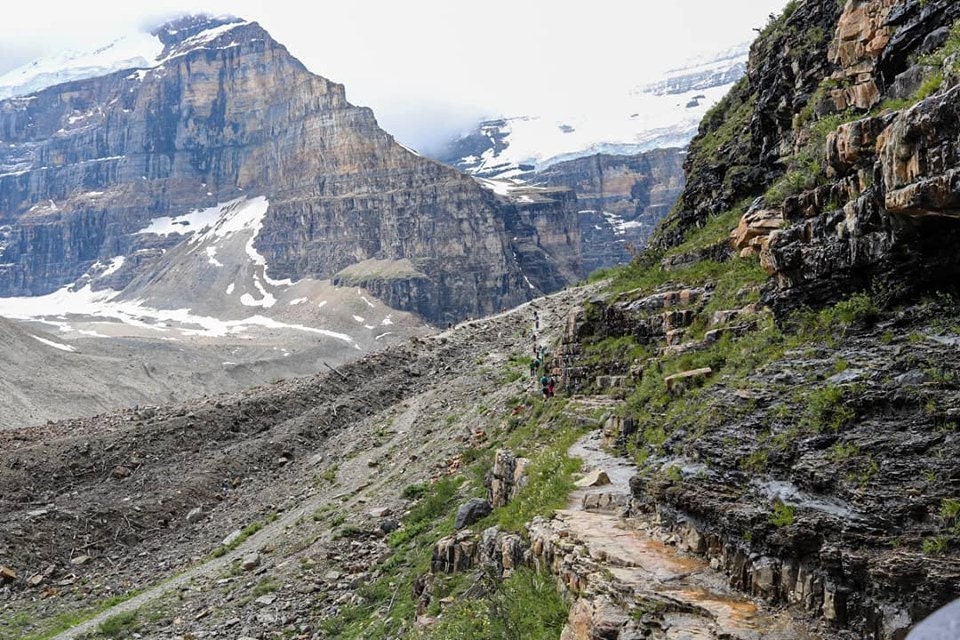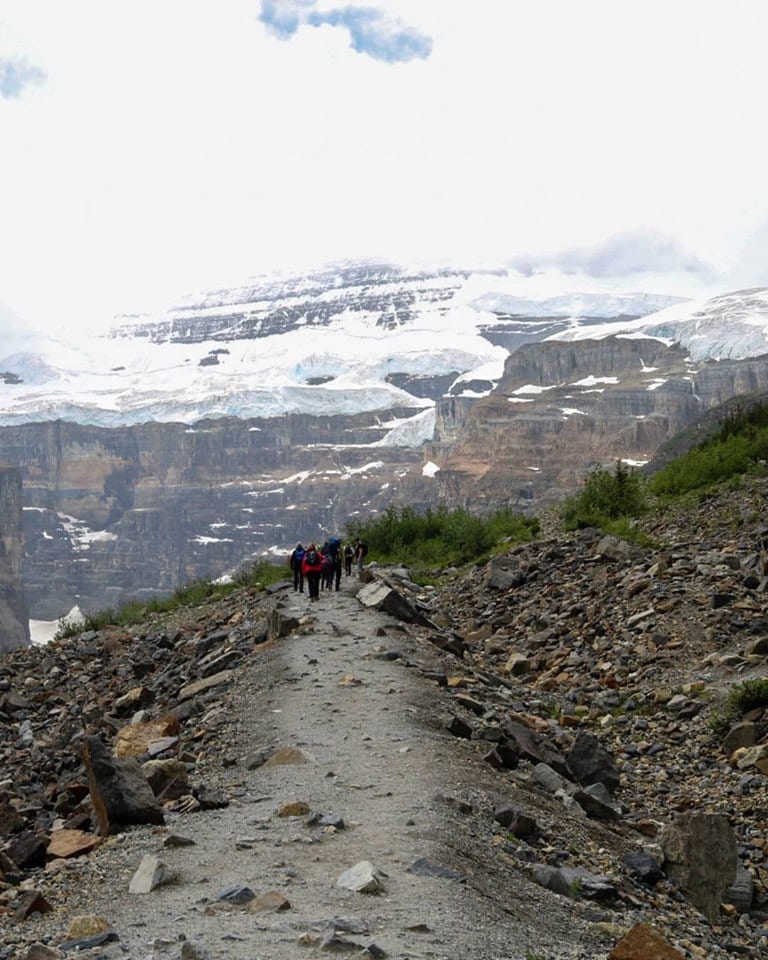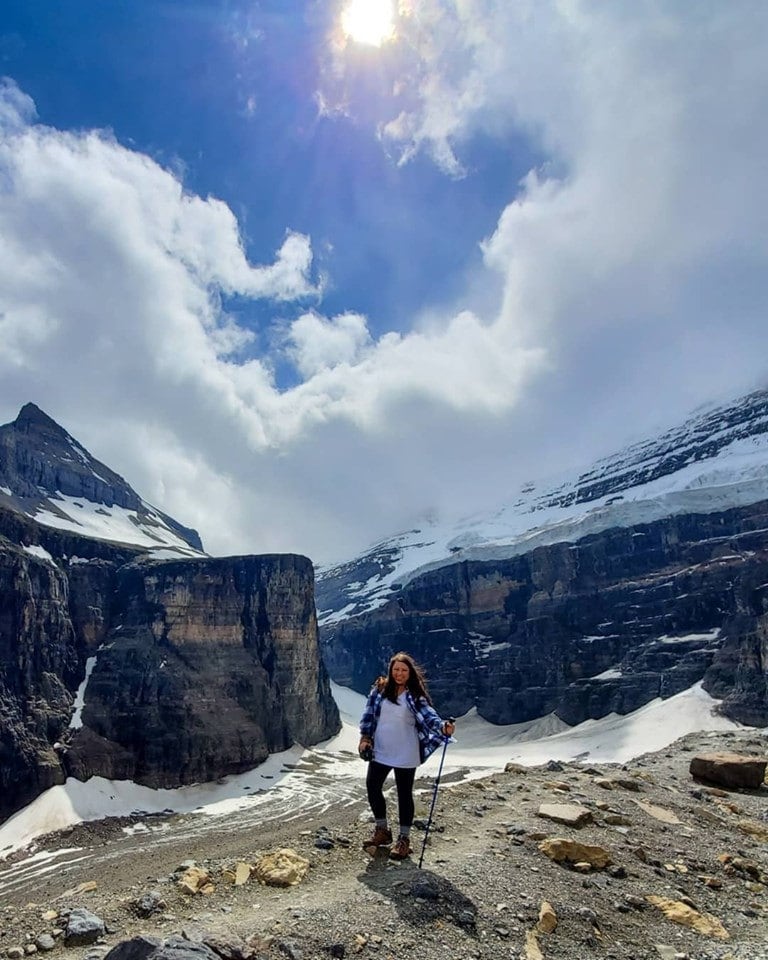 It feels like another planet up there!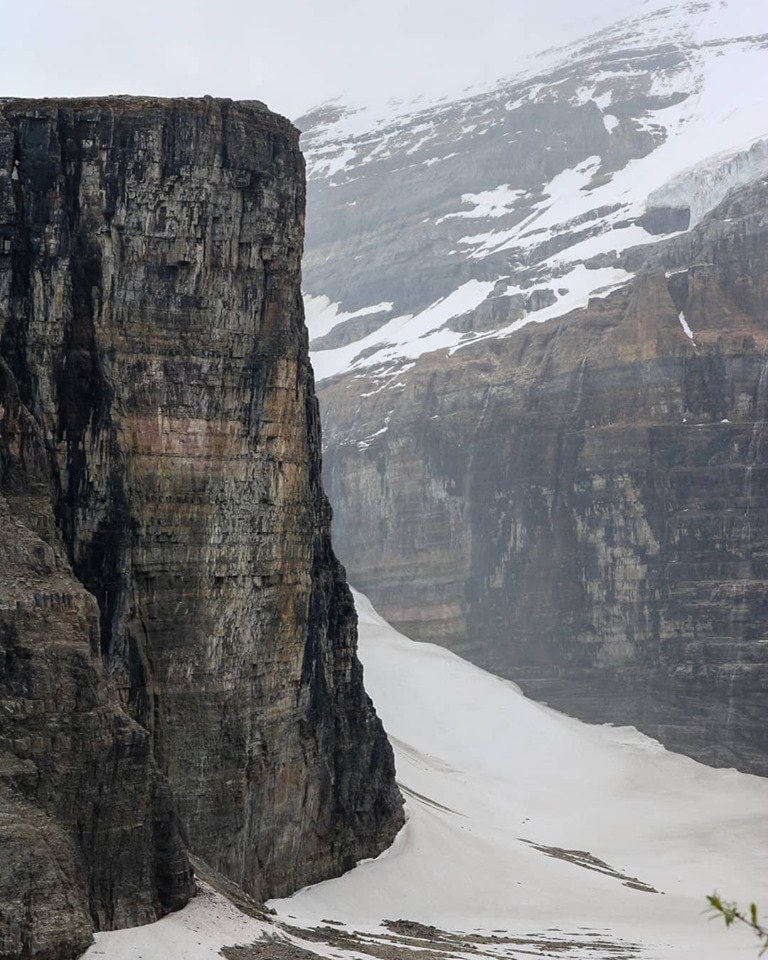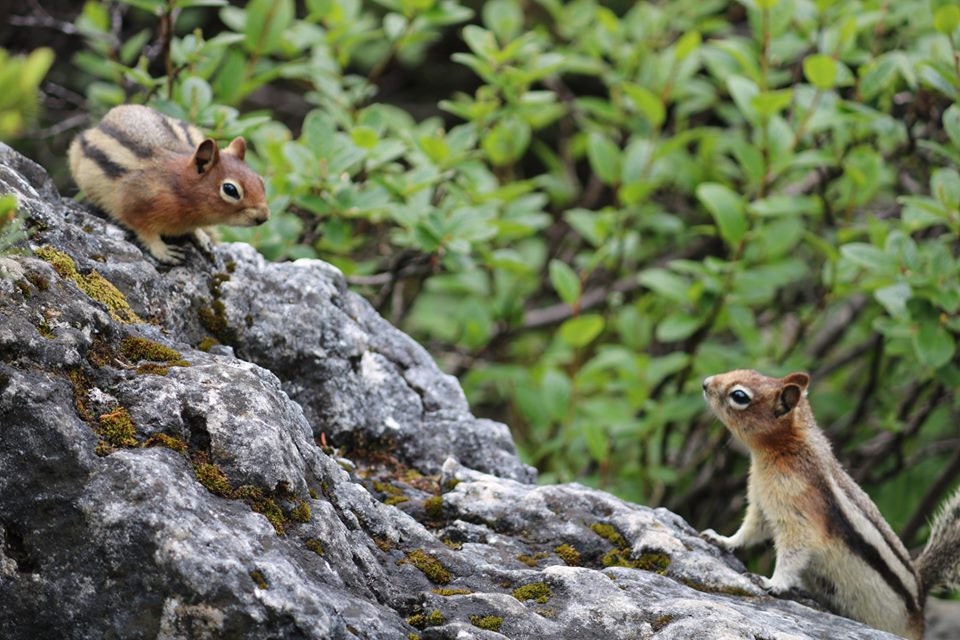 These little guys were ALL OVER the trail zipping out in front of you like they're in ATL traffic.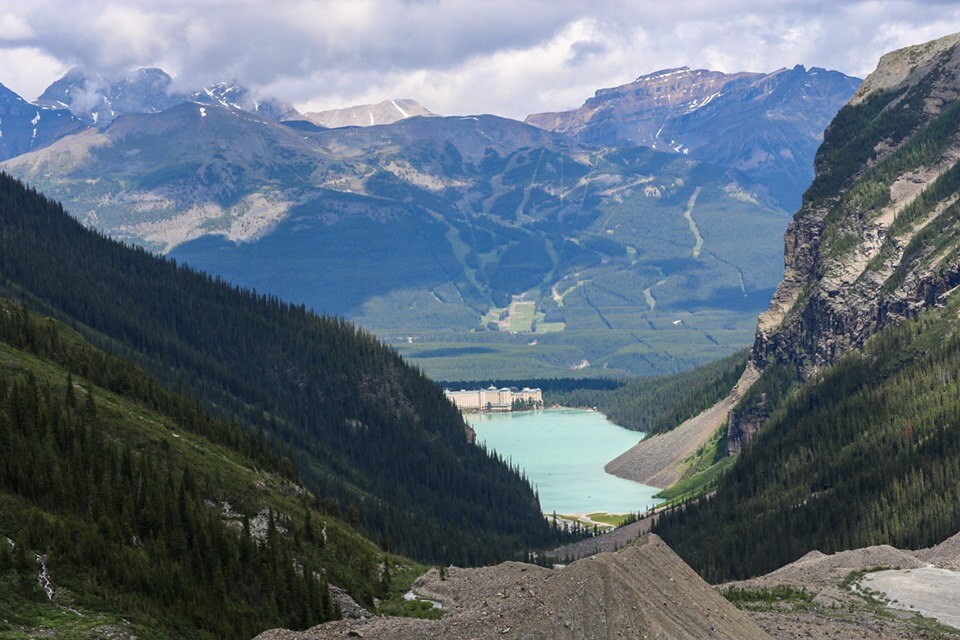 View of Lake Louise towards the top of the trail
Day 2 This was our jam packed day and our first official day in Banff! You'll need to buy a park pass for each day so make sure you add that into your budget (around $20CD per day). 
I set up a photoshoot for us at Lake Louise through Localgrapher and I highly recommend doing this for at least one big vacation in your life! It was so fun and I'm so glad I have these non selfie pictures of us to look back on and show our kids one day. In order to beat the crowds, you'll need to get there early. If you are going to Lake Moraine, the parking lot filled up by about 6:15am there and we got to Lake Louise around 7am and managed to get a spot. They are around 20 min from each other but we had to save Moraine for another day when we had more time. 
Lake Louise is beautiful and belongs on your bucketlist! The Fairmont Hotel there is stunning and if you have more money in your budget, waking up to that view can't be beat! 
The hike(s) we did this day were the longest and hardest but so rewarding and beautiful! We did the Fairview Lookout trail with our photographers (1.5 miles) first and after that we got changed (they have nice public bathrooms..and by nice I mean they are inside and the toilet flushes haha) and got started on our long hike around 10:30am. The Plain of Six Glaciers Trail is 8.6 miles and starts just to the right of the lake. This trail is listed as moderate but I highly recommend bringing along hiking sticks to help with your footing throughout the trail. There is one section that goes along a cliff and we passed a few people afraid of heights clinging onto the edge..it was not me this time but still a bit scary. Once you reach the tea house, you're almost to the glacier and you can stop and have a nice meal. This place was such a cool experience! They have no electricity or running water. Because of this, they start off each season getting supplies flown in by helicopter and use horses to bring in the rest throughout the season. For this reason they are cash only (no service for credit card readers). The staff does 5 day shifts, staying up there until the end of their shift and hike down. Talk about a commute!! Any trash you use while there (including banana peels and coffee cups) you have to hike down with and dispose of it yourself to eliminate the workers having to carry a bunch of garbage down with them. The hike took us around 7 hours (we stopped A LOT to take pictures, eat, breathe, and we kept going to the glacier another mile or so) but this seemed to be the normal amount of time per the All Trails app. If we ever make it back I think I would try to knock out the Big Beehive trail but our legs could not take another 6.5 miles. We got back to the Fairmont and the crowd seemed to grow since we started so always get an earlier start at these places! If you are in need of a snack again after your treck down, you can walk into the Fairmont and they have a yummy little cafe! After that we headed to Canmore for dinner and waddled to the hot tub to relieve our muscles (nightly tradition). We opted for going to bed early each night because A.) we were worn out and B.) early bird beats the tour buses ;)
I'll wrap up part one here, but next on part 2, downtown Banff and Moraine Lake (aka my favorite shade of blue lake we saw!)